Im not sure if anyone has heard of this game here, but there's a new naruto game coming out on august 18th called Naruto Uzumaki Ninden for the Playstation 2. Here is some more information on the game and how it differs from the previous playstation 2 titles before it.


The Playstation 2 gets another Naruto game, but instead of the usual 3-D ninja vs. ninja fighting games, Naruto Uzumaki Ninden is a 3-D action game! Players get to control the infamous ninja Uzumaki Naruto in a story-based 3-D action game complete with cutscenes and original voice acting. Control Naruto as he takes on scores of foes in 3-D beat 'em up action, complete with plenty of combo attacks, and even some of Naruto's special ninja powers.

1. New mode changing system allows you to use multiple styles in a single battle.
2. 3 on 3 matches similar to the popular King of Fighter series.
3. Use combination supers involving 3 team members for incredible results.
4. The new super combination clashing system allows for a whole new experince of power struggle similar to that within the famous Dragonball Universe.
5. All new real time special attacks make you feel more involved with the gameplay.

This game is an action/adventure mission based game where you take control of Naruto, to accomplish diffrent missions and task, just like Naruto does in the manga/anime. The game follows the original storyline while also adding too it.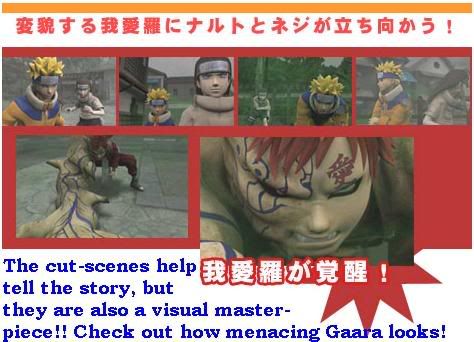 The cs graphics in this game are on par with E3 footage of the next gen consoles. Take a look at some of these shots. Remember, there have been many Naruto games in the past, but they were all cell shaded, sprite based or semi-3D. This is the first-3D polygonal Naruto game. And in this game, you can choose to be any ninja to be in your 3-man team. You read correctly, you can now create your dream team or simply use the original Naruto Team 7.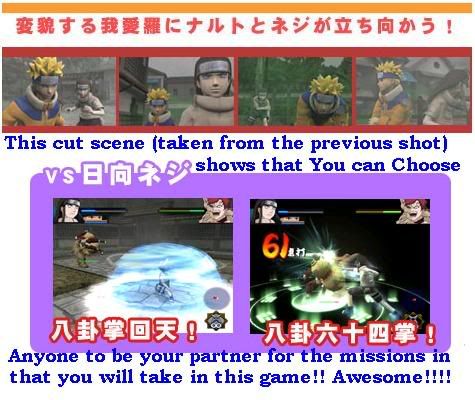 Another highlight of this game is the use of jutsu (ninja skills). In this game you can use your skills like Narutos Kage bunshin no jutsu, an ability to make clones of himself, to take on multiple enemies instead of going one on one.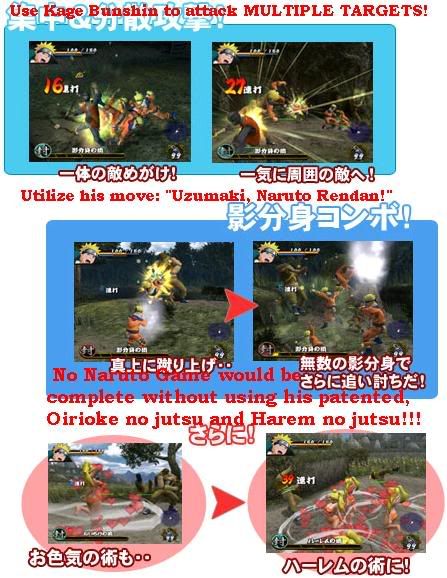 As you can see, not just some of the moves are included in this game. Here, all of the moves of each character you choose are at your disposal, yes, I repeat. All Moves.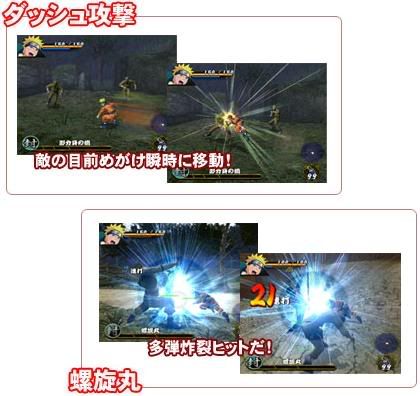 And the missions that you take on are not limited to you staying in the Country of Fire, Konoha, but you can travel all over the World of Naruto.
New Trailer
http://www.gametrailers.com/gamepage.php?id=2055
There has yet to be any word on co-op gameplay as of yet, but it is expected. In my opinion i think the game looks pretty well done and im anticipating it's release a week from now. Any other thoughts about this game?