New Member
Joined

Jan 3, 2006
Messages

368
Best answers

0
For now we can swich the charater in namek saga and change the story line..
If Goku was fight with koola in Namek but not Frieza, than what's gonna be??
I suppose that koola can be easily to knock dawn Goku all the time in his normal form before Goku turns SSJ. guess that would be more fun......
Or If Koola turns his max form and killed vegeta in the early battle before goku's arrival, than what would be next?? 10 times kaioken vs max koola??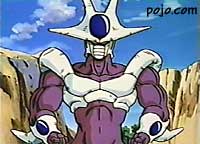 vs