I was thinking and i came up with a new game mode, it'll take me a while to explain but i'll get to it. Personally i dont see any point on working on capture the dragonballs, to me the gamemode has never interested me, as i'd rather just fight than go and collect balls, and usually its whoever has the bigger team that does better and only one person benefits from the dragon at a time. I would like a tournament mode instead, as im sure many others do too, the problem with tournaments is alot of it is spent in spectator, and i think it can get boring for people so ive devised a way that i think could be possible and fun to do, and also useful for clan battles and for groups of friends who play regularly against each other.
First of all I'll explain the options I think would be necessary for when you start a server:
Powerlevel gain: on/off
Pretty simple, do you gain powerlevel during your fights, yes or no, some people may want it to be equal for every fight, some may want to be rewarded for fighting well in previous rounds.
Players required before budokai can start: 2-16
You'll understand this better later on but basically, its how many players you need to join the server before the budokai can begin, untill the number specified join you will be forced to be either in spectator mode or in the practice arena.
New joiners able to participate in the league: On/Off
If a new player joins half way through the budokai (after the first set of matches have finished), will they be able to fight the players who have already won matches (added to the tournament bracket)? if not they'll be confined to the practice arena for the rest of that particular budokai, the next budokai they will participate like the rest
Odd number of participants able to fight: Yes/No
If there is an odd number of participants by the time the first round of fights are over then will the odd fighter be able to fight the last winner who won their bout or will they have to sit the rest of the budokai out.
Clan mode: on/off, number of clans and fields to type in clan names
Basically you can have it so when you start up before selecting class you can select what your clan is, so you can use this mode for clan tournaments.
Signature moves allowed:
Some may not want big ki attacks in the budokai for obvious reasons.
How the Budokai mode works
First, all members are given a number in the order they join to be put in the tournament brackets to see who they fight against.
The Red numbers show where each fight will be taken place because there will be 4 arena's and a practice/finals arena.
Here's how the map would be layed out: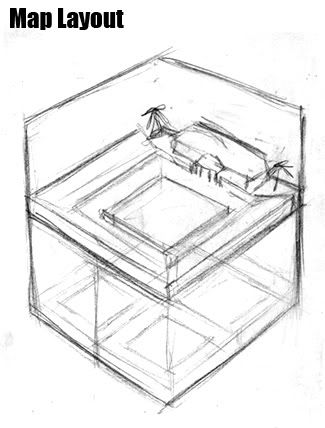 The top half will be the practice area, and the arena for the final, underneath there are 4 seperate arena's for up to 4 fights to occur similtaniously (each has their own sky box if thats possible), when it is your fight you will be taken from the practice arena and spawned into your specified arena, you have 5 seconds where you are both invincible and then you may begin. When the round is over the winner will be given full health for the next round. The 4 bottom arena's will be for all the perliminary matches that take place: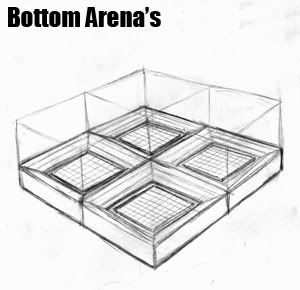 The Practice Arena
When you join or whilst waiting for your fight, or when your fight is over and you loose, or you win and you're waiting for the other fights to finish, you have the choice to either be in spectator or the practice arena. In the practice arena you cannot be hurt, but you can still fight, hence why its called the practice arena (no powerlevel is gained either). When it comes to the final fight everyone is taken to spectator mode, and the practice arena is used for the final fight.
I hope that explains everything If not let me know. I just think this would be a great game mode to play, i'd much rather have this over capture the dragonballs.