This may contain spoilers starting around the Dhoulmagus area of the review. Read at your own risk.
PS - Ignore my spelling and grammar errors...I was tired while writing this..
Alrighty. I just beat the game tonight. And this game has plenty of pros and cons to discuss......unfortunately, the cons outweigh the pros....
First Impressions
When I first saw ads, previews, and screenshots of this game, I was expecting a fun, colorful game that would be a nice light-hearted game. As some of you know, I'm not too into doom and gloom style things unless the story is really REALLY engaging. Final Fantasy Tactics comes to mind. And, of course, survival horros. However, I do enjoy smiling while I play the game. So I had asked for this for christmas and I was happy to have recieved it.
Story
The story is a little different, if not being just shy of cliche`. The nameless hero (yes. he's nameless. name him yourself) is travelling with a companion Yangus and a troll with a hourse. Well, seeing as it's not a spoiler since the first couple of lines in the game reveals to you who he is, the troll is the King of the Trodain Kingdom, whom the hero is also from. The horse is a princess. They were cursed by a Jester (Kefka anyone?) who had stolen the Trodain castle treasure, a magic scepter. And That Jester, called Dhoulmagus, is causing havoc. It's your job to kill Dhoulmagus and return the king, princess, and the castle to its rightul form. You meet the stereotypical RPG sex symbol Jessica and the Templar Knight who's about as holy-minded as a perverted teenager. They become your partners in battle along the way, as well as Yangus of course, who's a tough guy.
Characters
The characters are what really make this game shine though so I'll cover them individually.
The Nameless Hero
The worst thing about this game. Yes. I'm serious. He's good in battle, but thats it. Not only is he nameless, but he doesn't even speak either. A game these days, RPGs especially, has gone passed the need for silent heros. They are ok in text-based games, but it's boring to have a silent hero in a game where voice acting is in 90% of all the major scenes INVOLVING the main hero. And what makes him so important anyway? Well...he survived Dhoulmagus' attack on trodain castle so he's protecting the king and princess until their curse is lifted. Thats about it. This game would have been a bit more enjoyable had the hero at least had a voice actor. I'm just glad he had Yangus with him. Speaking of Yangus...
Yangus
Yangus is the best thing about this game. He's fun to watch from beginning to end and has a better history than any character in this game. Hell, his history is going to be shown in further detail with the Dragon Quest 8 Spin-Off game starring Yangus during his younger years. This guy has a lot going for him. He's funny, has a fun personality, usually has the best advise for you to follow, is powerful in battle, has useful special skills, and even says
THE
Dragon Quest VIII catch phrase..."
COR BLIMEY!!!
" One of the most dissappointing parts in this game is when he's about to say it near the end of the game, but stops halfway and says "...nah. I'm tired of saying that old line..." With those words, an outcry of sorrow was heard across the land...WE DEMAND MORE "COR BLIMEY!!!" But seriously, Yangus is my favorite character in this entire game.
Jessica
Jessica is the sex symbol. Hell, one of her skills is called "sex appeal." And many of her skills involve sexual things, like one of my favorite moves called "puff-puff" where she flashes her cleavage at a foe in order to make it lovestruck and sometimes not attack. Jessica as a character is actually very good. She's not a slutty type so she only does sexual type stuff during fights. During the story, she's very mature and can be referred to as the "motherly type" in the party, always making sure the group stays on the right track. Her main use is the black mage. She uses personal skills and magic to damage foes rather than normal attacking, and it proves useful, especially when one of her moves heals the entire party for 75 HP without any MP cost. Good to spam in boss fights. Another good thing is that you can play "dress up" with her. Some of her armor changes her looks so she can look like a summer dancer, wearing a bikini, in different bustiers, and even a bunny-girl costume. Very versatile in wardrobe. However, overall, while Yangus is a bit more interesting, she's still one of the more fun parts in this game.
Angelo
I was actually rather dissappointed with Angelo. His voice actor sounded like an amateur and his performance as a character was sub-par. When we first meet him, he seems like he'd make the game interesting with his letcherous ways. Unfortunately, that all comes to a hault after he joins your party. In fact, he almost becomes as much of a bore as the nameless hero. He only becomes more interesting because he has a voice actor, has a good variety of weapons and moves, and is somewhat a main part of the story later on. Other than that, not much I can really say.
King Trode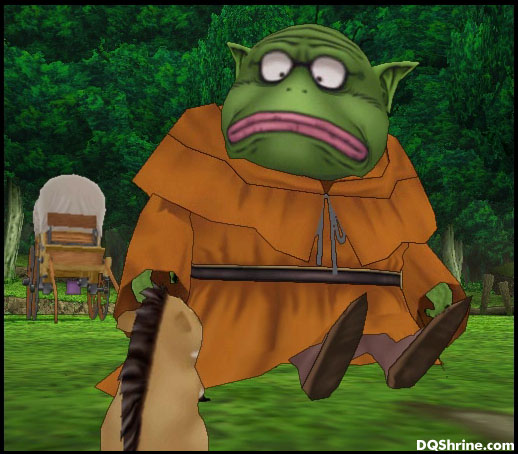 He and Yangus form the rare comic relief. In fact, it's safe to say I enjoyed King Trode. He was a riot. And pare him up with Yangus, there's funny coming your way. Unfortunately, he wasn't one for advice too often, but he does lend a hand in battle as one of Yangus' funny attacks called "golden oldies." Use that to finish off the final boss!
YOU'VE BEEN TRODE'D/10!!!
Dhoulmagus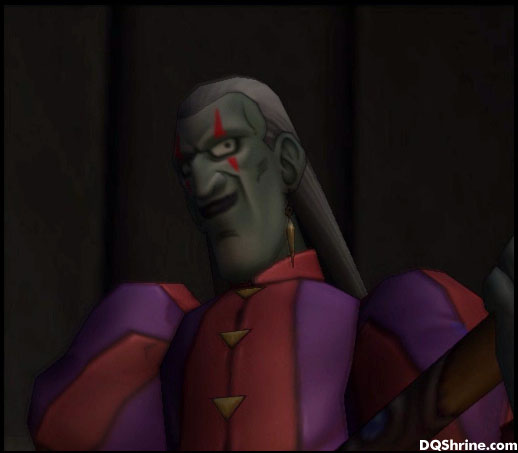 Kefka beats Dhoulmagus easilly as far as evil jesters go...hell, even as a villain. Dhoulmagus, however, did a good job. He was evil. He killed. He laughed about it. *Spoilers*
But was he the main bad guy or just a pawn? Any real gamer knows the answer to that. It's dissappointing though. Dhoulmagus was more interesting as a character than the real final boss.
The Real Final Boss

Name? Wont tell you. Goal? Nada chance. Importance? High. Is he a good final boss?



HELL NO!!!



This guy is a disgrace as a final boss. He seems so badass until you hear his voice....and then it even further gets worse when you finaly see him in his real form the first time.....and it's even more of a dissappointment when you see him in his FINAL form. I mean really. This guy made Dhoulmagus look like Darth Vader. Not to mention the hardest part about fighting him was simply removing the barrier he casts around him. Dhoulmagus was a harder fight. Period.

Well that about covers the important characters. Lets move on.
Sound/Music
Sound
- The sound was...well...generic as far as games these days go. However, the voice acting was very well done...er...for the most part. Most characters VAs sucked. Angelo, Charmles, The main bad guy, and ESPECIALLY that moonshadow clan guy come to mind. Other than that, it was a nice job. Though I think Jessica sounded a little older than she looked, but it still worked.
Music
- The good thing is, the music is all orchestrated. I'm talking professional here. No 32-bit type crap. "Going to the theatre to hear music" style orchestrated. Very nice work. The BAD part is....you'll be hearing the same tunes over...and over...and over again. The WORST part is, the final boss music sucked.... BOOOOOO! HISSSSS!!!
Graphics - VERY nice. GOOD GOOD GOOD! Everything is cel shaded, and all the artwork is done by our favorite guy...A to the T! Mr. Dragon Ball himself! You can even see some db characters in some form in this game. The hero looks like gohan/goku, Angelo looks like trunks, The fortune teller man in the first town looks like Hercule, and Dhoulmagus looks like Frieza somewhat. Nice art, nice colorful scenery, everything is nice, nice, nice! Nothing negative about this stuff!
Gameplay
Here's where it gets rough. I'll break it down.
1) Go to a town, fix the problem. Go to a town, fix the problem. Rinse and repeat. Cliche` is written all over this one.
2) Fights are classic turn-based. That style is dying out and many people, including myself, are finding it boring. In fact, I found fighting to be a chore. Seriously. An absolute chore. I found myself hating it so much, I turned my codebreaker on and reduced the random encounter rate to almost nothing. It bored me to tears, especially after just finishing Grandia 2 recently. And the random encounter rate is
rediculously
high.
3) Difficulty is insane. The normal enemies dont seem like much but the bosses will rip you up and spit you out. Basically, you need to be able to defeat a normal enemy in 1 hit in order to know you're ready for the boss of that area. And to add to that, experience is extremely low. I felt like I was playing an MMORPG at the rate I was gaining exp. So I was forced to fight enemies for over an hour just to level up once or twice to take on the main boss and BARELY survive, only to go to the next area and do it ALL OVER AGAIN!!! So, I whip out my trusty codebreaker, and turn off random battles completely and make my characters lvl 99. I was tired of fighting. period. The fighting style bored me and the experience was coming too slowly. I'm used to playing games where casually fighting and average leveling up would allow you safe passage. Not this game. This game requires you to run around fighting constantly. I was done with fighting. I wanted to just get to the story elements.
4) Again with difficulty. The ONLY place where you can save and ressurrect a party member is in a church in a town. Thats right. If someone dies in a fight, you have to go all the way back to a toen to revive them. This continues until near the end of the game where you FINALLY earn spells and find extremely rare items that revives players. And that whole game saving thing...well, if you die, you go to the last save point...which is a town. And god knows how ANNOYING some dungeons are to where you do not wanna do it again. It's finish successfully or bust. Oh, and might I add that dying causes you to lose
1/2 of all of your collected gold???
Yeah. So the lesson here in this game is, do it right the first time because the penalties are extreme.
5) Items. Most RPGs have you use items out of a big bag. Not this game. You assign items to use to specific party members in battle to use. And each member can only hold a specific number of things. EQUIPMENT INCLUDED! Kingdom hearts did a similar thing, but you learn magic that can be easilly refilled a lot during fights. Magic is used up quickly in healing alone in this game, and you can't get it back easilly. And again, on top of that, the items you can hold are very limited. So...again...you better be overleveled for that boss fight if you intend to save your expensive healing items.
So, overall, the gameplay gets dull, boring, and mind-boggling hard. This game is not a traditional RPG. It gets annoyingly hard very often. Like I said, I only cared about the story and turned off fighting entirely (other than bosses). Thats whole dull they got. Good thing the story was interesting enough for me to keep playing.
Would I reccomend this?
Sure. It's not a bad game. It's just not for everyone. Dispite its beautiful colors, it is quite difficult, but even MORE painfully annoying.
Is the game as funny and light-hearted as it appears?
NO!!!
I was dissappointed in the humor. I rarely laughed, much less chuckled. The game isn't made to give you a laugh. And it's also not too light hearted. It gets quite depressing a lot. Though it's not always like this. Many areas in the game are happy and cheerful, but if you're expecting laughs abound and a happy ending for everyone, you'll have to look elsewhere. The humor only makes up about 25% of the game. Thats not really that much.
Final Score?
On a scale of 1 to 10, I give it a 7. It's above average, but it needs work. Playing it might prove enjoyable, but there isn't much as far as replay value. The sidequests really aren't that much fun nor are they too rewarding, and the extra quest after you finish the game once just causes more irritation than it should. So again, I give this a 7 out of 10. Good, but needs some work done.
And thats the end, folks.