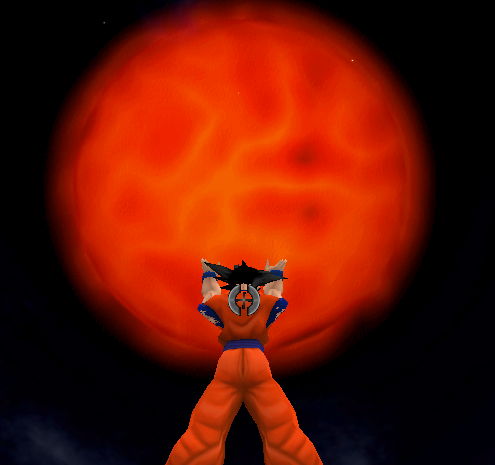 Movie here - http://files.filefront.com/deathballrar/;4718899;;/fileinfo.html
I made this in 3D Studio Max 8 using the same process I did for Cooler's Supernova. However, there was one SLIGHT problem...Death Ball and Supernova are very much alike....but they do have their differences. Supernova looks like a big sun-like fire ball while Death Ball looks like a ball of fiery "plasma". Thats the effect I was going for here. I made this differently than supernova. I used fire effects again, but unlike supernova, this has a "core".
If you cant tell, this is clearly a sphere with fiery effects surrounding it. Kinda like a fiery aura for the ball, if you will. Again, it's animated just like the supernova. It actually uses fewer frames though but it runs just as smoothly. As you can see, this is an in-game shot. I can't allow anyone to use it even if it's only a single frame of it. NO ONE MUST HAVE IT....yet. Thats why I made this as an in-game shot. Crop all you want, ppl. You'll mess it up all the time thanks to good ol' goku here putting his hands in the way
I used it as a Spirit Bomb because I'd have a better view of it and I really didn't wanna wait forever fighting bots to get the PL I need to trans with frieza.
As you can see, the object was rendered in 3D, so it has default shadows around the sides at some points to really give it that 3D effect rather than those
flat
-looking 2D sprites people take SOOOOO much pride in....*rolls eyes*
>.>
<.<
</arrogance>
Anyway, I tried to capture the true colors of death ball. I was originally planning on using the black, "electric"-looking death ball Frieza was charging right before goku threw the spirit bomb at him...but black shows up as transparent in-game so I went with red and orange, even though they'd be the same colors as supernova. So in order to not make a copy, I messed around with effects and colors and eventually came up with this. I thought the "core" made it look a lot more "solid" like an actual ball and gave it a really nice animation effect. The animation isn't like a "spinning" effect most sprites have. The fire slowly moves itelf around the stationary ball. Again, the animation and rendering were done in 3D max. I didn't use Photoshop a single bit for this.
P.S. - Before you jump on me and say "you idiot, its file size is gonna be huge if it's something like that!" I'd like to point out that this sprite is a WHOPPING 800 KB.....meaning its not that big. At all. So hush >.>
Also, yes. The animation is smooth. I tested it in both MY server and someone else's server where I had 100 ping.
No frames were lost
.