Recently, I've been inspired to draw women's faces. Maybe it's because of the art education, maybe it's hormones, and maybe I deem all women unworthy and must create my own. Either way, I came across this French singer, Alizee.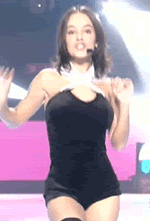 She fits the type of girl I would like to design, specifically for a hope-to-come flash animation, but I have a preference for tan/brown skinned looks (not fake tan).
I know you ESFers know your women, so feel free to share who you think takes the cake as the most beautiful woman, or would fit what I am looking for.