scince trunks is apparently a melee only character and he has a sword i think there should be a new method of melee for him.... lemme explain, with a lil diagram, cuz i got bored =0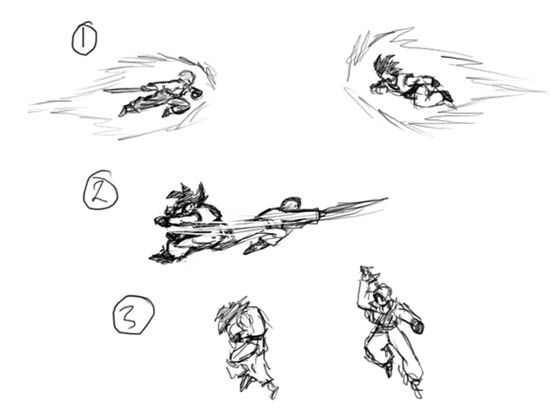 okey, Im gonna call it sword melee
1) you're swooping along as trunks, and you hold both mouse buttons down and you pull out ur sword, you got your enemy in ur sights
2) you successfully connect with your enemy, and you slice right through them, this deals slightly more than basic melee damage, but it will cost ki, about the amount of a teleport if you havent got enough ki then you will miss with your hit (it will still play the animation, but you will miss hitting the enemy) and not have any ki left leaving you open while u powerup. This move is unblockable.
3) There is little/no knockback on your opponent, it will stop and stun your opponent for 3-4 seconds (maybe less maybe more, wud have to be tested) you automatically come out of swoop just a little behind them, it automatically centers your view on them, after this you can do whatever you like.
(this part is a maybe addition to the idea)In advanced melee you may hold down both mouse buttons to use your sword, they deal more damage but will be less likely random, but if you land a sword combo, at the end of your melee it will stun your opponent (end melee) like using the sword melee stated earlier.
This stun time can be used to use his new flamethrower move, or burning attack to blind them. Making his melee actually more useful/different than it is now so he can be teh true melee character.
just another idea to throw into teh works.... meh figured it'd be simple enough to code as its just like basic melee, but the knockback distance is really short and lengthen the recovery time, and it'd make you automatically stop swoop after. I think this'd make trunks really unique.